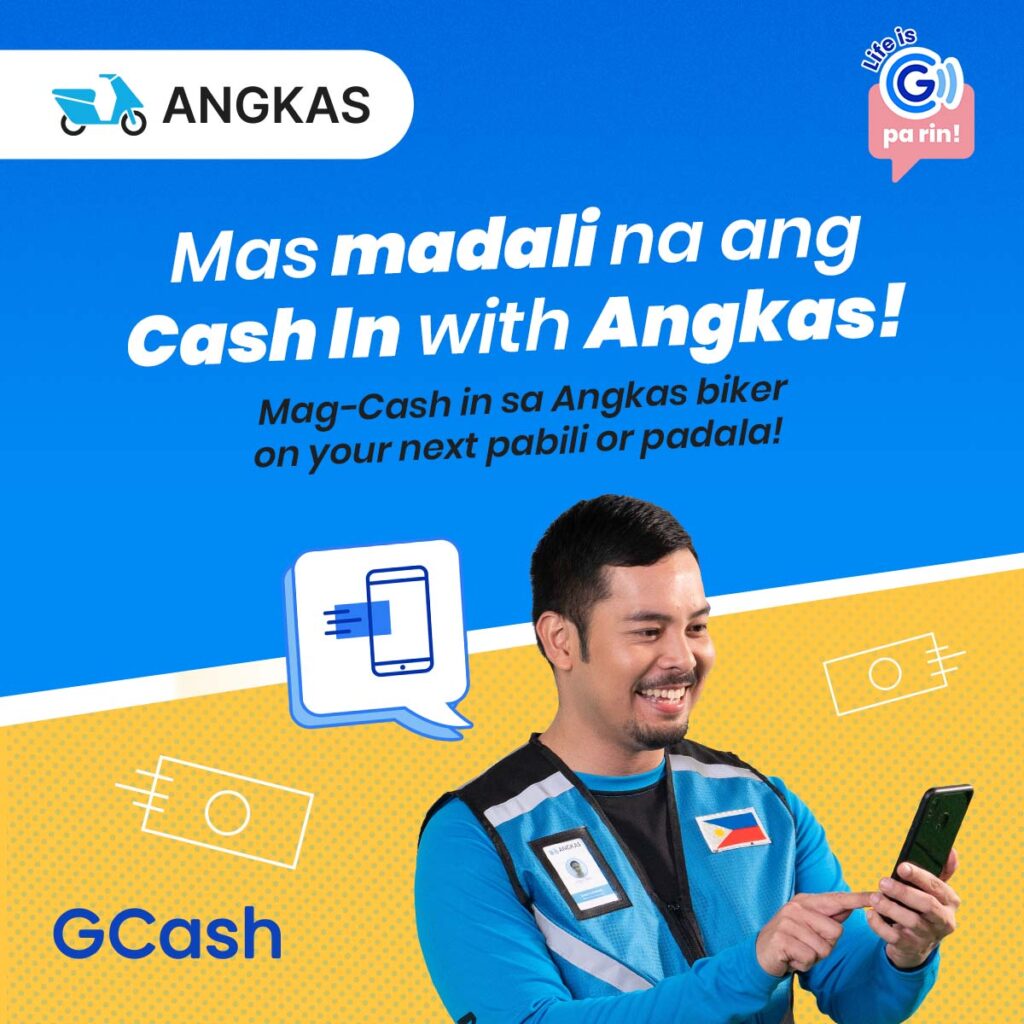 In response to the need for a contactless payment solution for motorcycle commuters and further improving the experience of unbanked Filipinos cashing into their accounts, GCash, the country's leading e-wallet, has partnered up with the country's leading motorcycle taxi to make cashless transactions safe and available anytime anywhere by launching GCash Cash In Express.
Cash In Express will enable users, who are reliant on offline cash in channels but are unable to leave their homes due to safety concerns, an avenue to top up their GCash wallets without having to leave their homes. GCash users simply need to book an Angkas Pabili or Padala service and add on the request for GCash Cash In. Once the biker arrives at the user's home, the user can generate their personal GCash QR for the biker to scan and top up with the requested amount.
This is the latest partnership between the two industry leaders to champion safe and secure mobility in the country. During the height of the pandemic, majority of the Angkas bikers have also been equipped with GCash QR codes for contactless payments so users can conveniently pay for their Angkas rides and bookings. GCash users simply need to scan the Angkas biker's GCash QR code, type in the amount, and they're good to go!
Prior to the pandemic, GCash and Angkas also enabled its bikers to receive incentives and payouts via the PowerPay+ disbursement platform. Providing real-time digital disbursements, and fast and easy onboarding for Angkas' biker base. Furthermore, Angkas bikers can purchase their top up vouchers via the GCash app anytime, anywhere. The availability of the QR Code and Cash In Express is expected to encourage more consumers to switch to e-wallets in the future to stay safe amid the pandemic and for more seamless transactions.
"Launching Cash In Express and having the GCash QR codes on Angkas will be a big help for both bikers and customers. It's faster, safer, and more convenient for everyone. It also empowers the Angkas bikers in line with GCash's company thrust of financial inclusion," said Martha Sazon, GCash President and CEO.
According to Angkas, majority of their bikers have already been equipped with the GCash QR code for contactless payments and all of their bikers are able to facilitate Cash In Express. "Since the onset of the COVID-19 pandemic in 2020, Angkas has been actively providing safe and dynamic mobility solutions to the riding public to help them go from point A to point B, as well as help consumers deliver essential goods and services. As we adapt to the rapid digitalization of the economy, we look forward to more people using GCash as a safer and contactless form of payment with us," said George Royeca, Angkas CEO.
The partnership between GCash and Angkas is one of several initiatives by GCash to encourage different sectors to improve adoption of e-wallet usage, as part of the Bangko Sentral ng Pilipinas' (BSP) mission to promote digital payment methods.
BSP governor Benjamin Diokno previously said that he would like to see the country become more adept at digital currency, with a target of 70% Filipinos having formal bank accounts and using the e-wallet method by 2023.
With the GCash QR code now empowering every Angkas biker to accept digital payments, transactions have never been easier or safer for both bikers and passengers.
For more information, visit gcash.com.