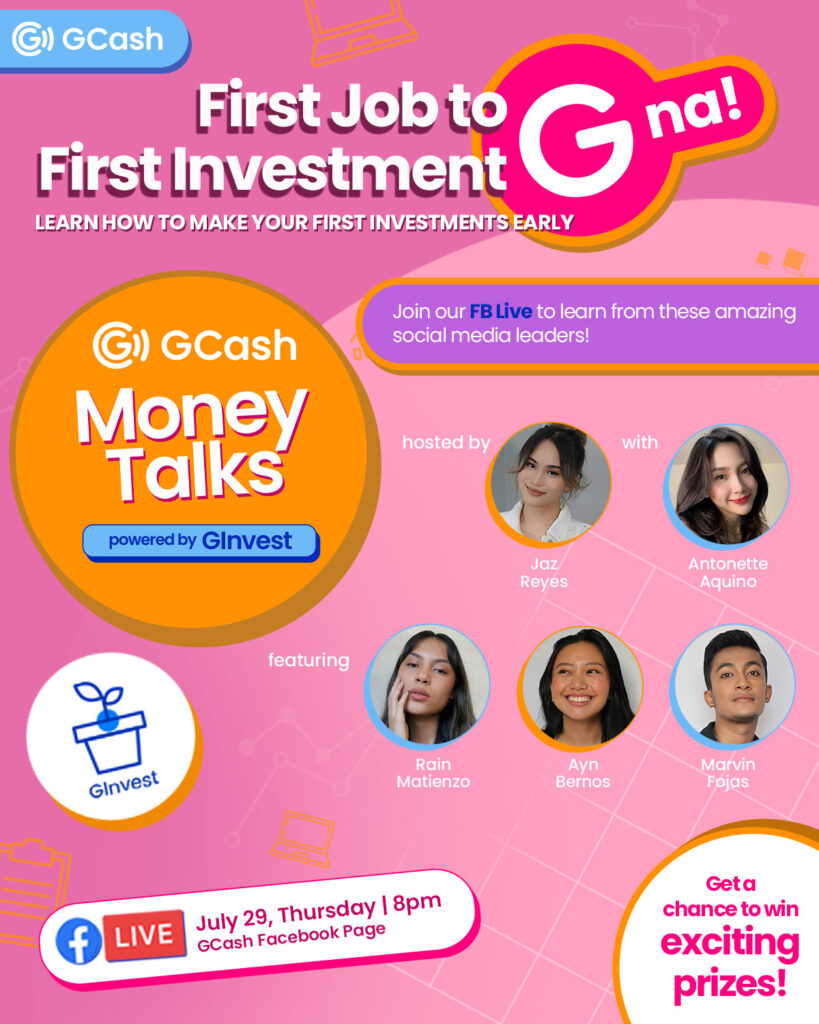 There are some career milestones worth celebrating, including bagging the job of your dreams, your first promotion, and of course, spending your first paycheck. While it's tempting to use all your money to treat yourself, it's always wise to set aside a little so you can begin making your savings grow.
To educate first jobbers on how to do this, GCash, the country's leading digital financial provider, is holding a free webinar to help the youth unlock their goals. The third installment of GCash Money Talks, entitled "First Job to First Investment, G Na" will air on July 29 at 8 PM on GCash's Facebook page.
The webinar aims to help customers, specifically young adults, unlock their financial goals to experience their passions and teach them the ropes on how to invest and grow their money using GCash. It also aspires to empower the youth to gain financial freedom even at a young age.
Hosted by radio DJ and host Jaz Reyes, the webinar will feature Antonette Aquino, financial advisor and founder of Money Health Check who will discuss topics such as how much young people should spend and save and practical ways of investing and managing their funds. "Investing can be intimidating for a lot of people, and this webinar aims to encourage young people to realize how your 20s is the best age for investing," said Antonette. "Through GInvest of GCash, you can make the most out of life while investing in your dreams."
They will be joined by social media influencer Rain Matinazo, TikTok superstar Marvin Fojas, and entrepreneur/motivational content creator Ayn Bernos. They will share their experiences in budgeting and how they manage their finances.
GInvest, the first-ever digital investment platform on GCash that allows Filipinos as young as 18 years old and with a valid ID, lets you explore easy ways on how to save for your passions and achieve your life goals by investing and conveniently growing your money through a tap on the app.
The third installment of GCash Money Talks is a testament to creating beautiful experiences for people to have choices, overcome challenges, and discover new ways to enjoy life.
GCash and GInvest continue to help pave the way for Filipinos to get in the habit of saving and growing their money through investments easily,  efficiently, and conveniently.
To learn more about the GCash Money  Talks and more  information about GInvest, you may visit GCash's Facebook page, https://www.facebook.com/gcashofficial/.