John Gabriel Austin F. San Luis o mas kilala sa tawag na Gala Ni Gab sa mundo ng Youtube (YT) o vlogging, isa si Gala ni Gab sa madalas ko panoorin na channel sa YT dahil sa galing nyang gumawa ng content mula sa magandang scenery shoot na kuha nya hanggang sa mga review nito sa mga gadgets na kanyang ginagamit.
Kung tama ang pagkakatanda ko una kung nakita ang mga likha ni Gala Ni Gab o mas madalas na tinatawag ko syang JG sa isang feed sa instagram dahil minsan pag-naabusan na ako ng mga ideas sa mga gusto kung concept ako humuhugot ako sa instagram at doon nga nakita ko ang kanyang mga kuhang na talaga naman nakaagaw sa akin ng pansin partikular na dito ang magadang color toning nya sa kanyang car shoot. Nakakatuwang isipin sa kanyang murang edad ay ang galing nya kumuha kaya naman nakakainspire lalo kumuha ng mgalarawan hindi lamang sa portrait shoot maging sa car photography.
Kaya naman nitong nagkaroon ng masayang online party ang Born in Film / Photo Nation International kung saan pareho kaming member nito ay kinuha ko na ang pagkakataon para makausap sya patungkol sa kanyang journey sa photography at ang mga thoughts nya para dito. Liban pa dito ay tinanong ko na din kung game pa sya para sa simpleng features sa aking site at umoo naman.
Tara kilalanin natin si John Gabriel Austin F. San Luis sa mundo ng photography.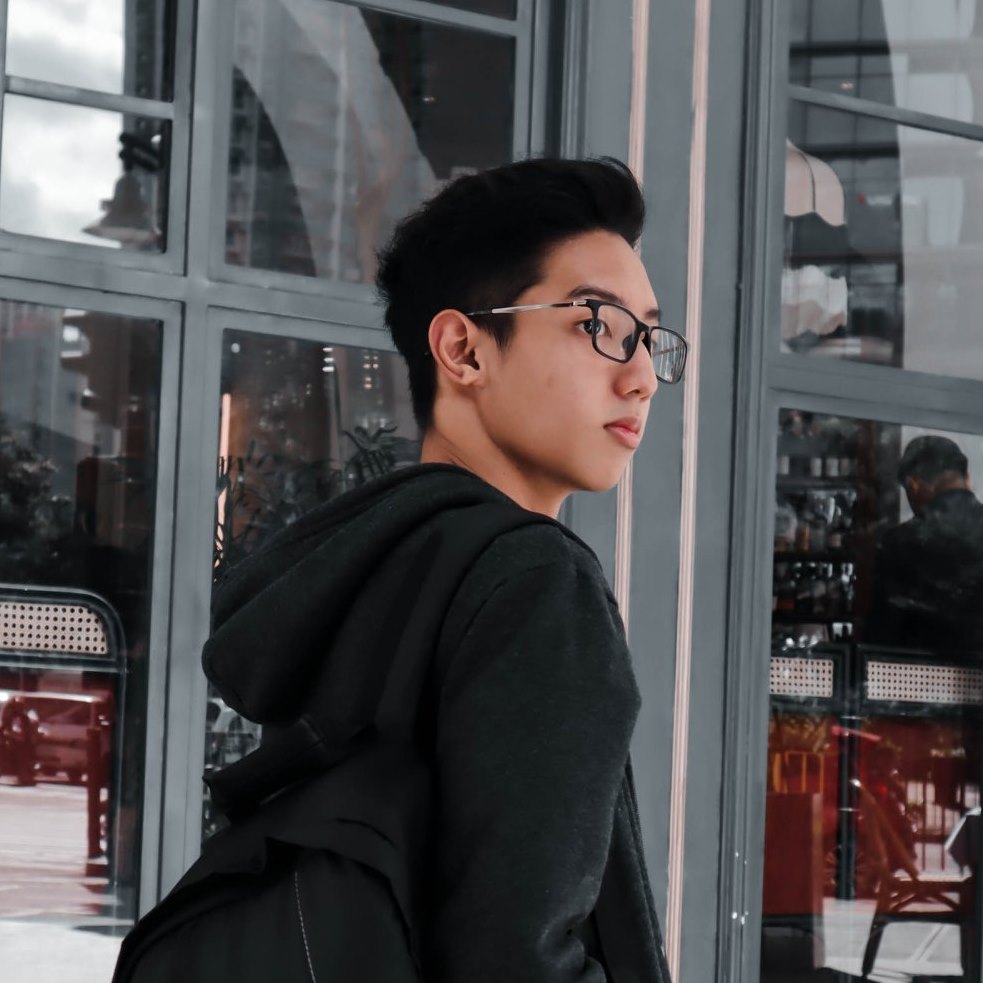 Full Name and Alias: John Gabriel Austin F. San Luis "Gab"
Website/Blog / Facebook Page: Youtube "Gala ni Gab"
IG : @galanigab
Location: Dasmariñas, Cavite
Age: 22
Education: BS Entrepreneurship
Genre of your Photography: Portraits/Cars
Tell me about yourself that people don't know:    I grew up in China when starting when I was 4, because my dad got a job there and he want us family to stay together and guide me as I grow up. So I studied there from elementary to Highschool, after graduating Highschool I've always wanted to study here in the Philippines so we went back here in the Philippines for my College studies. and that's why I can speak and write Mandarin fluently. 
Also when I was a kid, my parents are very supportive with what I do. I started from drawing, to learn how to play the piano, graduated as a blue belter in Taekwondo, taught myself how to play guitar, drums, and produce music, to now being a photographer. All these I won't be able to achieve if I didn't have my parent's support.
What is your current state of mind before we continue with the interview?   I'm doing fine, great. kinda nervous because I just know that I'm so close to graduating and I'm trying to apply OJT for this semester.
How did you get started in photography?   My story is kinda funny when I think of it. My dad was a hobbyist photographer when I was a kid, and back in that day I HATED to be taken pictures of, and I thought taking picture was as easy as clicking a button. 
Fast forward to college first year, I borrowed my dad's 5D mark II not knowing it was a great camera back in that day, so I was just taking random pictures inside my University and I was frustrated all of my pictures are white (overexposed) by curiosity, I started to search from Youtube about camera basics to camera tutorials. And as I practice everyday and watch tutorials every night, I didn't notice I was continuing my dad's passion and I pursue to be a professional photographer.
Did you go to school to study photography?   No, Actually all the things I learned and know was from watching Youtube tutorials. Since when I entered college my Course was related to business, and I learned photography when I was in 2nd year. Everything I want to know I just search on Youtube and I didn't realize I spent hours a day watching tutorials on photography or vlogs related about photography.
What camera and lens mostly did you use?   When I was starting, I borrowed my dad's Canon 5D mark II and Canon 50mm version II. Then when I earned enough money from my photography/videography works I bought myself a Canon M50 and a Canon 50mm STM with viltrox speed booster. 
Since I started vlogging on my youtube channel and travel a lot, my priority is convenient and lightweight, that's why I only bring my Canon M50 with its kitlens and 50mm around me and that's all I bring everytime.
How would you characterize the style of your photography?     For Car photography I like to bring excitement, I like to capture the adrenaline rush behind a photo. 
Growing up playing Need For Speed, and watching movies like Fast and Furious, I love cars ever since then and I've always want to own my dream car as a kid, while I can't buy myself one yet, I couldn't resist seeing cars in action. So that's why I wanted to capture them so bad while I save up for mine.
Who or what influenced you to become a photographer?   When I first got into instagram, the first photo that amazed me was Brandon Woelfel, his portrait style was colorful and vibrant, and everything looks so dreamy. 
So that's when I started to experiment and tried to imitate his style.
How did you become a photographer? And When did your career start as a professional photographer?   My dad was a hobbyist photographer when I was a kid and when I entered college, I borrowed my dad's Canon 5D mark II not knowing anything about photography. So I was taking random street photos inside my University and I just don't understand why my all my shots are white (overexposed)
So I watched Youtube tutorials every night and practice everyday for 3 months not knowing I fell in love with photography.
My career started when my neighbor's kid is having a birthday party and they hired me as their photographer/videographer. And after the event, I edited and sent them the photos and they said they loved the photos and they are willing to pay more. So that's when I discovered I'm earning as a professional photographer.
Can you share with us some recent images? And what's the story behind it? (5 exclusive photos)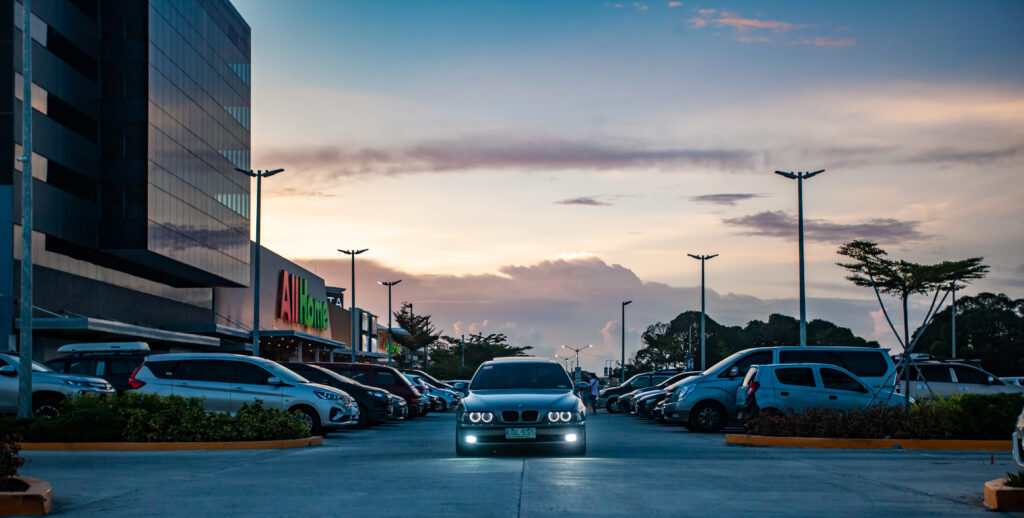 Before I got into studio portraits, I always wanted to capture car cultures and car meets, So I founded Wheels Media for cars and me and my crew always try to go to car meets as much as possible, then here's a shot I took at All Home Daang Hari meet, this was edited by my friend Albert and co-founder of Wheels Media. We pick only the best shots and I thought this picture was a Reject because I didn't like how underexposed I shot but Albert convinced me that this picture has potential to be a poster, so I tried basic editing it and pass it to him and here is the result. the final picture was way better than I expected and this was a collab between me and Albert to produce this BMW bimmer poster. (credits to sir Chic Sobritchea Torre's BMW E39)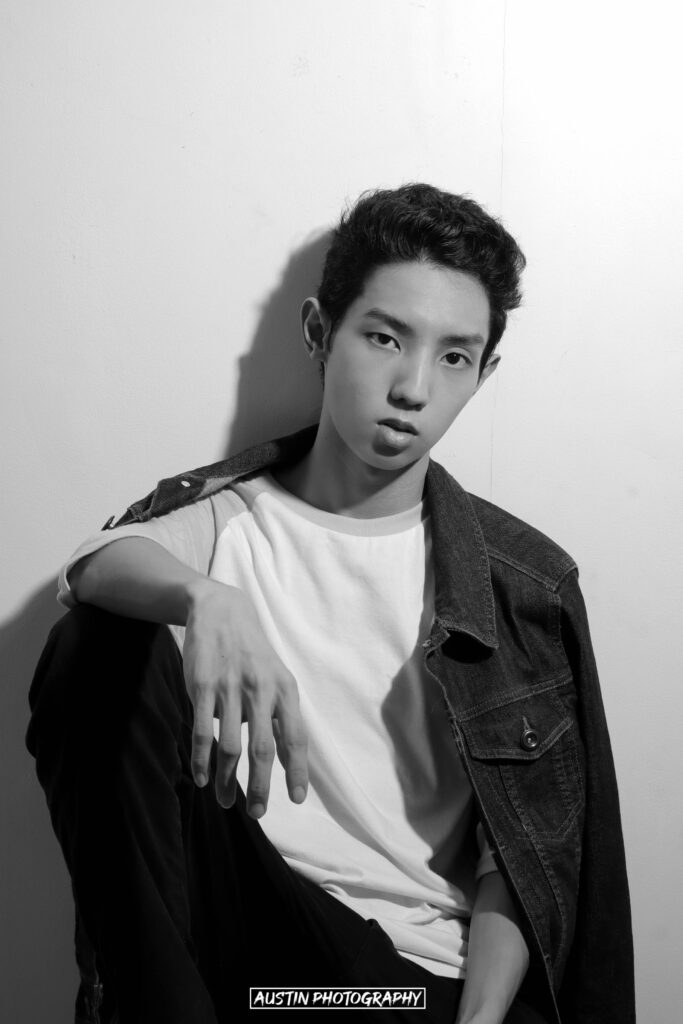 This photo was shot during 2020 first few months of lockdown, I have no idea about studio photography, I have no knowledge about using strobe light back then, but I knew a friend from Instagram Jan Mayo, He is a professional studio photographer and he taught me how to shoot professional studio portraits. and I practiced every day and here is the 5th self portrait session I got, I learned how to properly light a subject with just 1 light setup or when to use different lighting on different situations. looking back at this shots it got me some new opportunities and professional works for others just because of these practices. special thanks to Jan Mayo for all the teachings!
This shot was during my International Business class tour to Korea during 2019 and I'm glad I'm a photographer and for the love of cars I capture cars passing by our tour bus, this was during highway bridge, and their cars are mostly Hyundai for the love of their own car brand! I love how it turned out, the car was sharp, road have proper motion blur, that is how I judge a good rolling shot.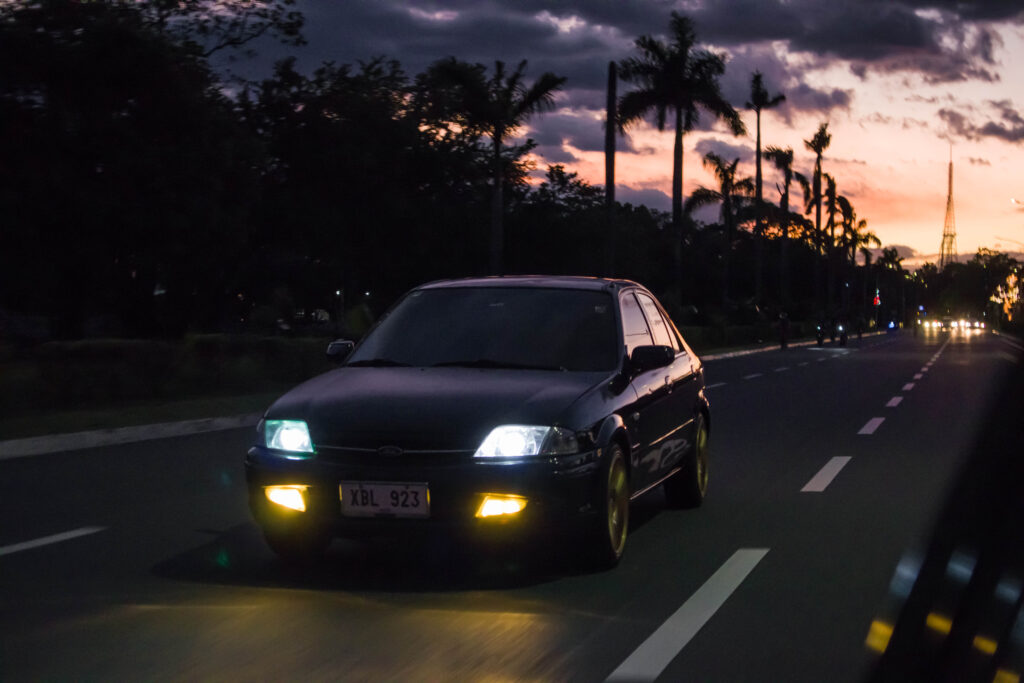 This was shot on UP diliman with my friend Alfonso Aguilar, fun fact is we knew each other because of our cars, we both have Ford Lynx 1st generation, so we talk about cars all the time and he teach me about car parts I teach him how to shoot car photography, and this was our first collab and short roadtrip in UP diliman. the sunset was beautiful that day and we got some stunning shots with our cars.
This was shot 3 days ago March 19, 2021. A satellite tower near our house and I'm making a vlog in progress for this, taking the same shot a day for 30 days and see the different sunset with the tower, this was the first day. I'm excited when I reach day 30 and compile all the shots of the tower, I call this Tower under the Sunsets.
Do You Have A Favorite Walk Around Lens…If So What Is It?  My Favorite lens is gonna be Canon 24-70mm f2.8L, I haven't tried out this lens yet but base on my experience on my lenses, the perfect focal length for every situation even for vlogging is gonna be that lens.
What is the most rewarding part of photography?   The most rewarding part is when I finished shooting photos (especially car photos) and importing them to my editing software and see all the details and color grade them to enhance it even further, it's a feeling you cannot explain when you export and see the final photos you shot.
What is your most embarrassing experience as a photographer?   Not everytime you do professional work you expect it to be successful. I remember my first time disappointing a client after all the work and effort I put into that output I was so proud of, and received some really hurtful words. 
But as a professional photographer, I'm proud that I solved that issue professionally and with a smiling face towards the problem. That is the one and only fail project I encountered but it teaches me great lessons and experience.
How photography change your life?    Being a photographer, seeing the world as continuous photos/images and up to our eyes to capture it. When watching a movie, I started to pay attention to composition, character mood and so on. and how colors affect the mood in the movie.
And being a photographer just capturing the surroundings around me is a great privilege.
What makes a good photographer in your opinion?    A good photographer should capture stories, express themselves through photos, gives value to a brand they are working with, makes a concept come to life. produce photos that people didn't know it's possible, and so on.
Is expensive camera equivalent to quality photos?     No, Expensive cameras doesn't equivalent to quality photos. But it enhance it. I know many photographers also have debated on this, camera does matter/camera does not matter. But take it from me, you may think "oh your dad provided you a great camera for a start" yes but no, I started with a Canon 5D mark II but I told myself I don't deserve this camera yet with my skills, so I downgraded to only using my iPhone camera, and then challenge myself to enhance my skills and bring out the best out of the equipment. And then when I go back to Canon 5D mark II, I bring the best out of that camera is capable of.
What goal are you working towards within your photography and when will you know you have reached it?    My goal as a photographer is, I want to be successful in portrait photography here in the Philippines, working with well known celebrities, and for Car photography I wanted to give the quality that can compete with America's many great photographers and hopefully one day I can visit America and have clients to shoot cars with.
What photographic organizations do you belong to?   I am part of Born in Film, Photonation International group.
Name a photographer you would like to take a portrait of?   I would like to take a portrait of Peter Mckinnon, because He is iconic in the youtube industry as a photographer youtuber and he gave me hope that even content creator like photographers can be successful in vlogging.
How do you see yourself 20 or 30 yrs from now?   I can see myself still being a photographer owning a media company focusing on car photography and hopefully I got my dream car then and bring it to canyons to take photos with it. Also hopefully my youtube journey pays off and continue my vlogs even after 20 years and looking back to the days I was only starting to take photos and see how far I've come
Any final message? Its your time to shine..
To all my friends who know me as "Gala ni Gab" on Youtube, being a photographer and a youtuber is a tangible career so whoever wanted to pursue their dream as a photographer, I say go for it and keep the passion burning, work hard as a photographer can help you earn more depends on your skills, I started photography as a hobby and nobody taught me how to improve but because of my passion, I never thought this would be my greatest strength and create photos/videos I never thought I myself would produce at this age of 22, so if you want to do this as a career, I say the most important thing is: 
If you love what you do, you'll never have to work for a day.