Melvin John Vito o mas kilala bilang Melvin Vito, isa sa mga mahusay na litralista sa bagong henerasyon, kung tutuusin literal na bago pa lamang sya sa mundo kanyang pinasok pero masasabi ko na ang husay na bata lalo na sa low light portraits photography. Kaya naman di na nakapagtataka pa kung bakit marami gusto sumama pagnagkakaroon ng photography session sila.
Tara kilalanin natin ng husto kung sino nga ba si Melvin Vito sa mundo ng fotografiya.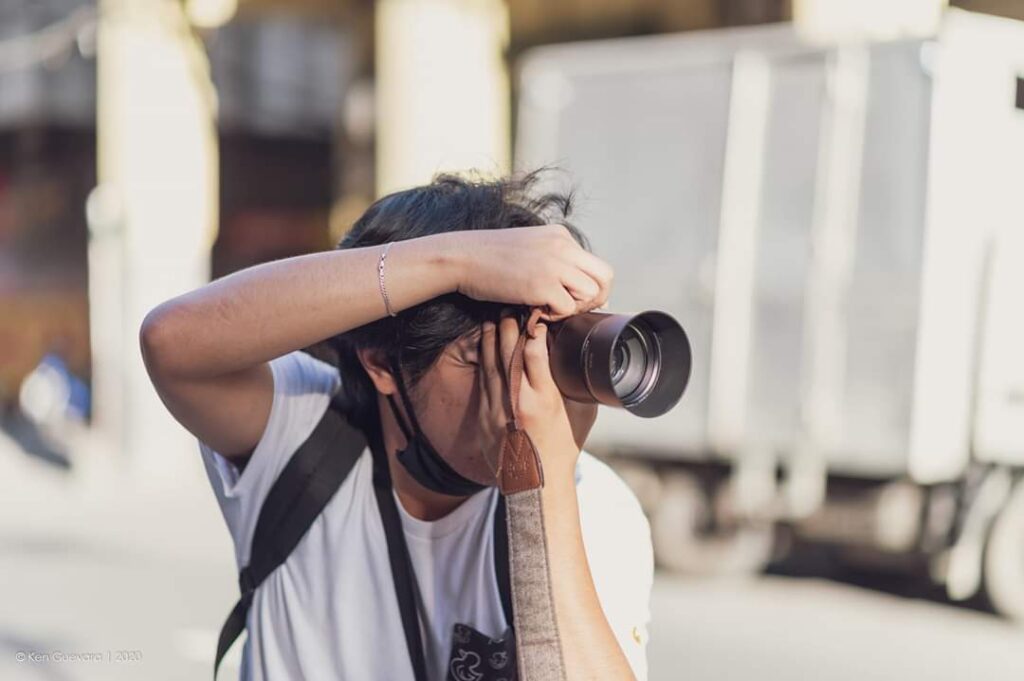 Full Name and Alias: Melvin John T. Vito | MJ
Website/Blog/Facebook Page: M E L V I N V I T O |https://www.facebook.com/mjvphtgrphy/
Twitter: @MelvinVito1
IG: @mjvphtgrphy | https://www.instagram.com/mjvphtgrphy/
Location: Lucban, Quezon | Metro Manila
Age: 24
Education: Mechanical Engineering Graduate
Genre of Photography: Portrait Photography | Lowlight and Creative
Tell me about yourself that people don't know.
– I love coffee, seafood and ice cream. That's it.
What is your current state of mind before we continue with the interview?
– chillin'
How did you get started in photography?
– Since I love watching vlogs and videos about creative photographers on how they plan, shoot and edit their photos, I decided that I wanted to try it too! I bought an entry level camera which is my Fujifilm X-A3 (my first camera) and I started doing this as a hobby, shooting anything under the sun. And the rest is history!
Did you go to school to study photography?
– No, I just learned photography through YouTube tutorials, Free Workshops, photo walks, reading manuals, and from my fellow co-photographers and friends.
What camera and lens mostly did you use?
– Currently I am using my Fujifilm X-T30 equipped with 35mm and 85mm for portrait shoots and events.
How would you characterize the style of your photography?
– My photography style was highly influenced by Brandon Woelfel and Kanbokeh (You can check them out on Instagram!). I'm so in love with bokeh, lights and colors that is why I create an art that has the same vibes as them.
Can you share with us some recent images? And what's the story behind it? (5 exclusive photos)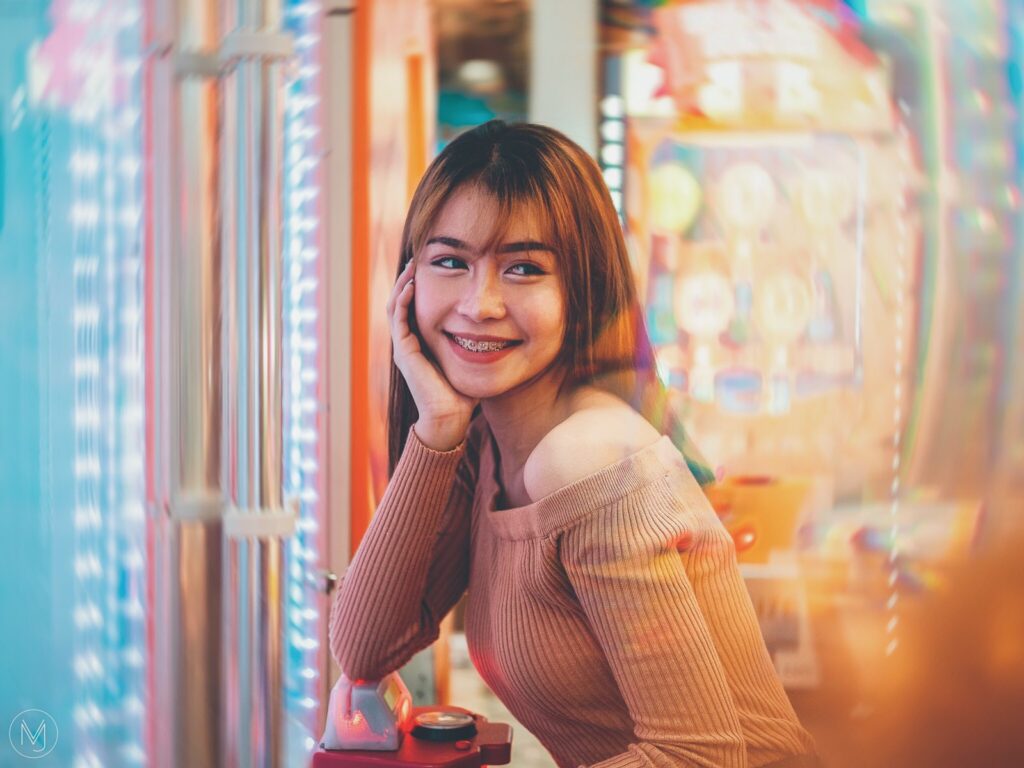 – Shot taken using Fujifilm X-T30 with 35mmf2 at the arcade somewhere in BGC. This shot was taken in just a couple of seconds because they are very strict with shooting inside the place. LOL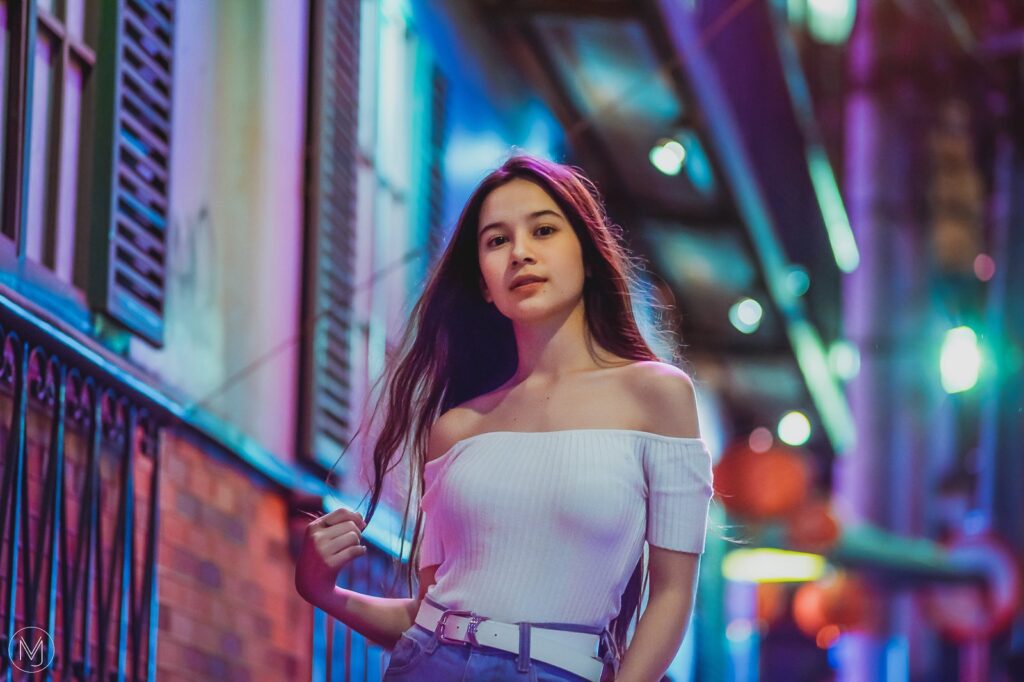 – Shot taken using Fujifilm X-T30 with Viltrox 85mm f1.8 at Burgos Street, Makati City. I just love the color neon vibes on this street that is why I recommended this place especially if you are into low-light photography.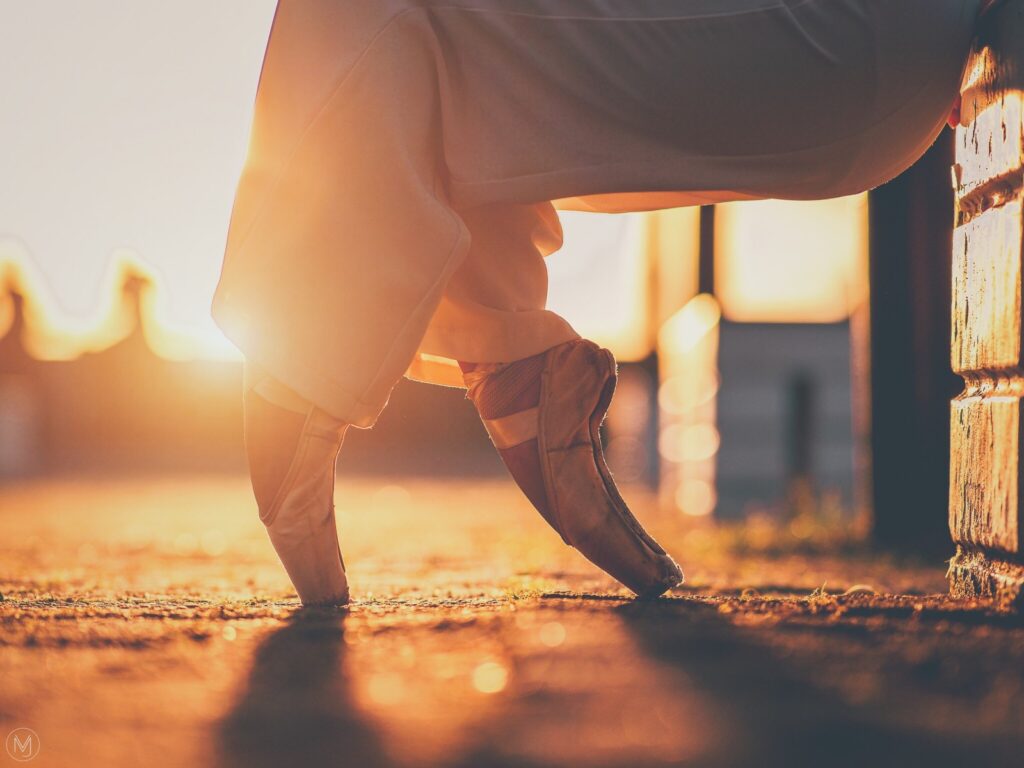 – Shot taken using Fujifilm X-T30 with Viltrox 85mm f1.8 at seaside, MOA. Aside from neon and city lights, I also love shooting during golden and blue hour because it makes your photos more interesting.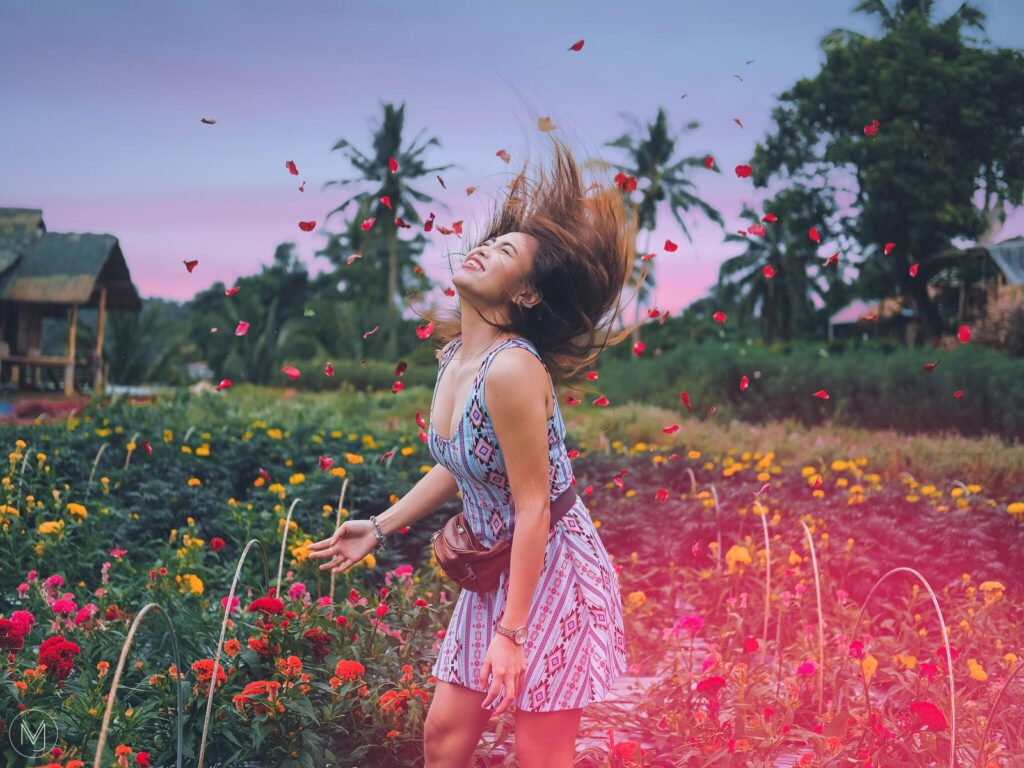 – Shot taken using Fujifilm X-T30 with 35mmf2 at some flower farm in Quezon Province. I also love shooting in places with colorful and aesthetic vibes while playing around with different shots, angles and props.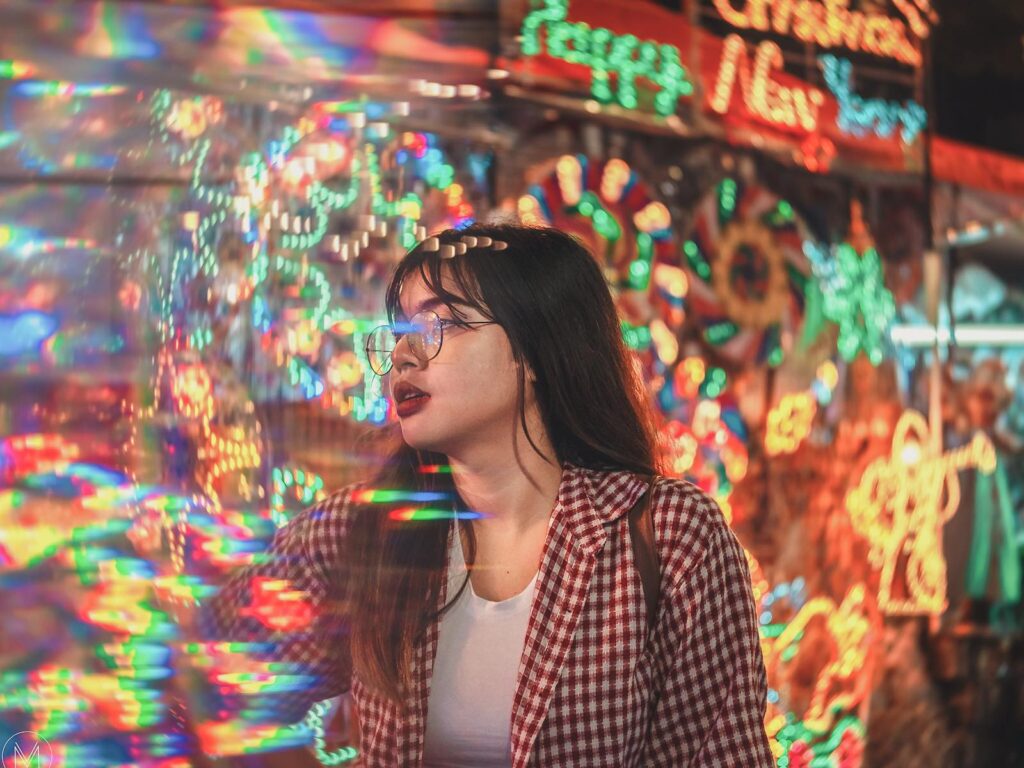 – Shot taken using Fujifilm X-T30 with 35mmf2 at Farmers Cubao, Quezon City. Christmas Season. A season that is full of lights, colors, bokehs and everything nice! Use this season as an advantage to take some good photos because there are colorful lights, everywhere!
Who or what influenced you to become a photographer?
– Short answer. Brandon Woelfel and Kanbokeh! <3
How did you become a photographer? And When did your career start as a professional photographer?
– Simple, when I watched one of kanbokeh and Brandon woelfel's YouTube video about photography tips and tricks, I was astonished on how they can create art everywhere they go and whatever props they can have. They are so inspiring and creative! and after that I decided to buy a Fujifilm camera and lens, start practicing and shooting and make my Instagram as my photography platform. My photography career starts after I graduated last 2019, and just this year I decided to become a full-time photographer.
Do You Have A Favorite Walk Around Lens…If So, What Is It?
– Definitely my 35mm lens! It is a very versatile lens that you can use for a wide variety of shoots. This lens is perfect for portraits because it is not too wide nor tight and it does not compromise the environment while isolating your subject. You can also use this lens for your travel photos and street shoots.
Which one item of equipment would you say is the most important to you?
– Prism! I always bring my prism every time I shoot portraits because I like to play with different effects and reflections that this prism can give me.
What is the most rewarding part of photography?
– Meeting new people, making new friends and inspiring other co-creatives are the most rewarding part of my photography journey.
What is your most embarrassing experience as a photographer?
– Going to the venue provided by the client, at the exact time but wrong address.
How photography changes your life?
In my personal opinion photography has impacted my life in many ways. I cannot explain everything but there are few points which I would love to share with you all.
Photography really helped me to gain confidence to be myself through my work and meanwhile it was an escape from the real world. I could create everything I imagined and I slowly noticed I was getting better by practicing and practicing until I become satisfied with my own art and then wanting to improve more. People started talking positively about my photos and gave me compliments, something I really appreciate during my years as a photographer. I did feel very good about my photography because I enjoyed it so much.
Trying something new and stepping out of my comfort zone makes my photos become better it becomes my motivation to keep on practicing and shooting.
I am not a social person before. I usually avoid social gatherings but after choosing the photography as profession I became fond of interacting with unknown people. Now usually whenever I go outside, I take photos of unknown without any hesitation.
Photography helped me to realize what I wanted to do with my Life. Initially I don't want to be a professional photographer but after taking some shots made me realize what I actually want to be & now making the best efforts to be one of the best photographers in the world.
I know you been working with some of the famous and influential people in the country but may I ask whom do you wish/dream to work with and Why?
– Brandon Woelfel, it may be impossible but I always look up onto his works every now and then and wishing to work with him someday. Locally, I just wanted to work with my co-creative friends and just enjoy shooting. Simple as that.
What's the best mirrorless camera for non-pro?
In my personal opinion and if budget is not of a problem, go for Sony a7Riii for full frame mirrorless camera, or Fujifilm X-T3 or X-T4 for APS-C Camera.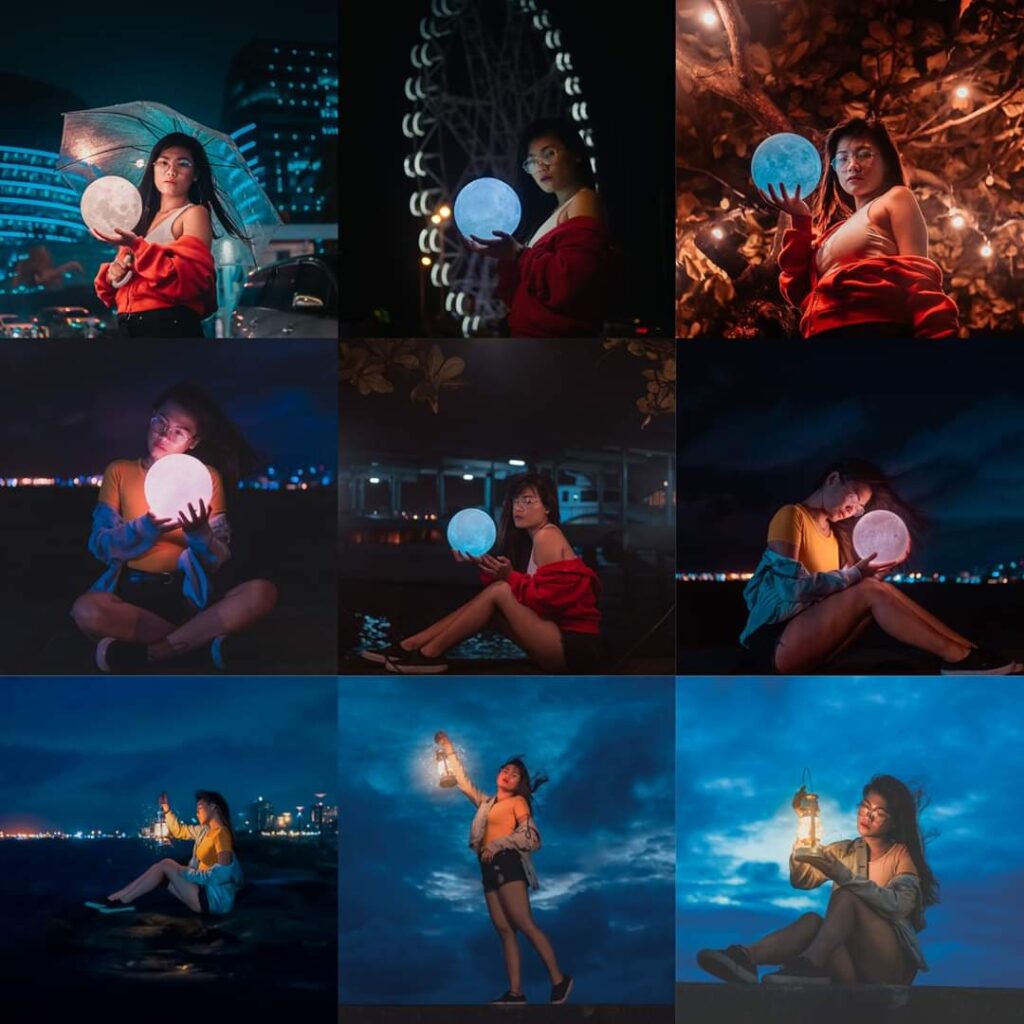 Also, best DSLR and prime lens for non-pro?
In my personal opinion (I do not own any DSLR, I started in mirrorless camera) and if budget is not of a problem, go for Nikon D750/D7850 for best DSLR you can have (for me, at least). Prime lenses may vary depending on what kind of photography you are into. For me, the best primes lenses are 35mm, 50mm, and 85mm for portrait photography, each lens have different uses depending on the location, lighting and it really depends on your taste on how you want your photos to look like before even capturing it.
What are the best tools for a beginner to learn on (besides the camera)?
Aside from learning the basics of your camera and photography, you also need to learn how to use Photoshop or Lightroom for editing and enhancing your photos. It may take some time to practice and master these tools but it's definitely worth it in the long-run.
What is your favorite recent image you have shot recently? Can you describe its creation in regards to location, lighting, composition, camera settings etc., also your thoughts when creating the image and what it means to you?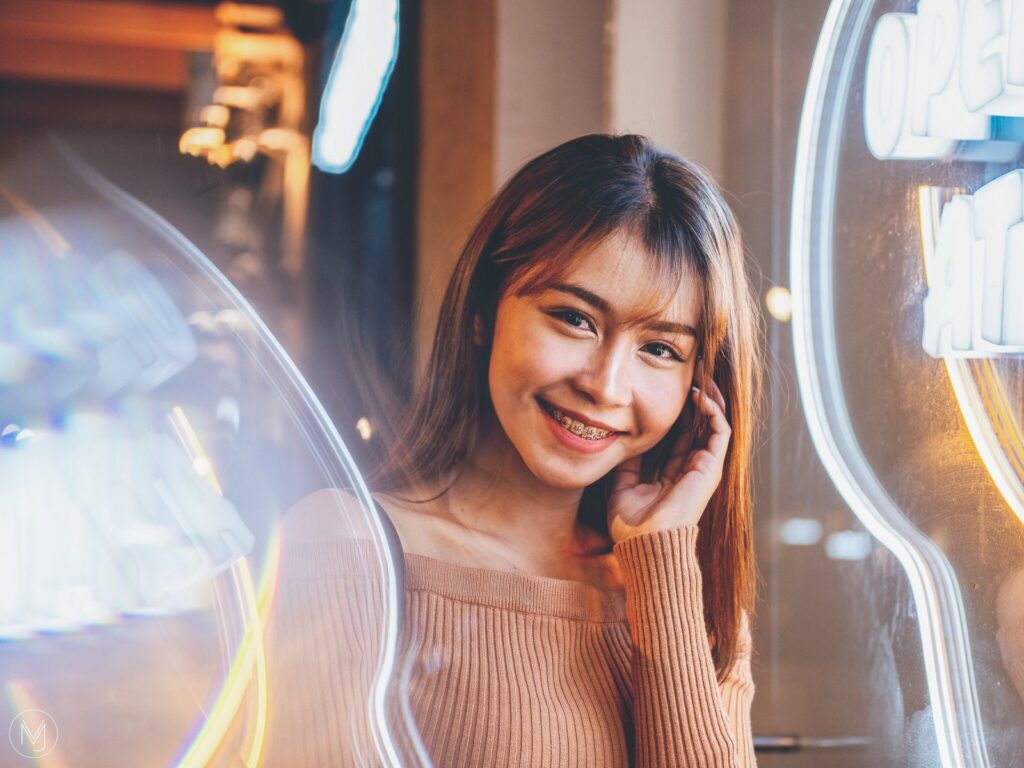 This is just one of my favorite shots that I took this year. It was taken last February 2020 with my friend Shin Meggumi at BGC using my Fujifilm X-T30 and my Fujinon 35mm f2 prime lens. The settings for this shot are ss 1/125, f2, ISO 400 and in RAW format. The lights coming from the logo outside the restaurant gives enough light to lit up my subject so I don't have to boost up my ISO and retain its sharpness. I also used my prism for the reflection as you can see on the left side.
Is expensive camera equivalent to quality photos?
The difference in cameras will be in the quality of the images. However, the photographer itself is the most important aspect of all. If you master the basics of photography, you can pick up any gear, cheap or expensive film cameras, and even digital cameras and still take a great photo. But having a great camera gear can also be an advantage and can really help you in providing quality photos especially when you are using it for professional business purposes.
What are the pros and cons of being a photographer? Please be specific.
Pros of being a freelance photographer:
– Living your dream, Your way
– Freedom and Flexibility
– Adventure always awaits
– Endless Possibilities and Opportunities may come
– Can meet different types of people & make new friends
Cons of being a freelance photographer:
– No guaranteed income everyday
– Expensive! (esp. if you don't have enough money to buy everything you need)
– Unpredictable Working Hours (Shooting and Editing)
What is the best editing software for beginners and how is your editing process like?
– Adobe Photoshop and Lightroom is the best for post-processing your images. Explore your editing apps and just enjoy post-processing and color-grading of your photos. It is okay to make mistakes in shooting and editing, It's part of the process! I'm using both applications for editing and I don't have a regular editing workflow, it really depends on the what I want my photos to look like based on my imagination.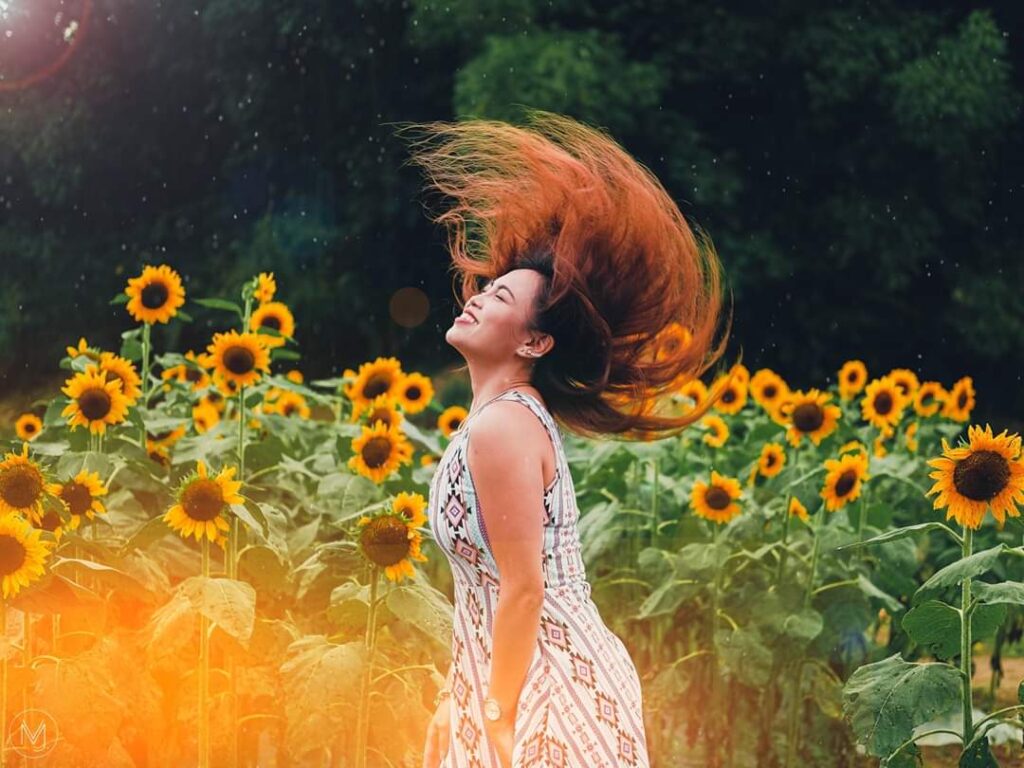 I know you like traveling for shoot or even for chill-out, can tell me where is the best place to be to do some shoot? and why there?
– Poblacion, Makati & BGC – for lowlight photography
– Binondo, Manila & Intramuros– for street style portraits
– Quezon Province – for sunflower garden and flower farms
But personally, I don't have any favorite locations to shoot, just maximize what you have in your location and just create an art everywhere. Widen your imagination and always be creative!
How did you go about selling your first photograph?
– It's really hard to find a client for your photography services at first, but after having some clients and connections to other people, the number of clients that become interested on your work will suddenly increase especially if you always give a great output them.
What goal are you working towards within your photography and when will you know you have reached it?
– Here are some of my goals for my photography career:
1. Earn profit from photography business
2. Make a photobook collection of my works from recent shoots and projects
3. Save money & Travel
4. Collect & Upgrade my gears (One at a time LOL)
5. Collaborate with other creative photographers and meet new people.
What photographic organizations do you belong to?
– Fujifilm X-Photographers Philippines! Fujifilm community is very active in photo walks, events, free workshops and seminars. Those are some of the reasons why I love Fujifilm so much.
Name a photographer you would like to take a portrait of?
– I don't have any specific photographer in mind to take a portrait. But I would love to take portraits of any of my photographer friends and do it just for fun.
What's your favorite photography tip/trick?
– One simple tip. ALWAYS SHOOT IN RAW!
How do you see yourself 20 or 30 yrs. from now?
– 20-30 years from now, I can see myself as a successful professional photographer, having my own studio and handling big projects (Hopefully). I probably have my own coffee shop too. Traveling around the world is also my goal, so I hope all of this may come true in the future.
What legacy you will leave on?
– I haven't totally thinking about the legacy since I'm just starting my career as a photographer. All I can say is that when you really want to do something in your life, do not stop until you reach that dream. Hussle! Work hard and be patient, always.
Any final message? It's your time to shine.
– My friendly advice for my co-creatives out there is get out of your comfort zone and just shoot! Leaving your camera in its bag will get you nowhere, make taking a photo a habit. Take photos not just to see the results but to enjoy its process. Lastly, do not forget the reason where and why you started photography. Keep on shooting and God Bless!