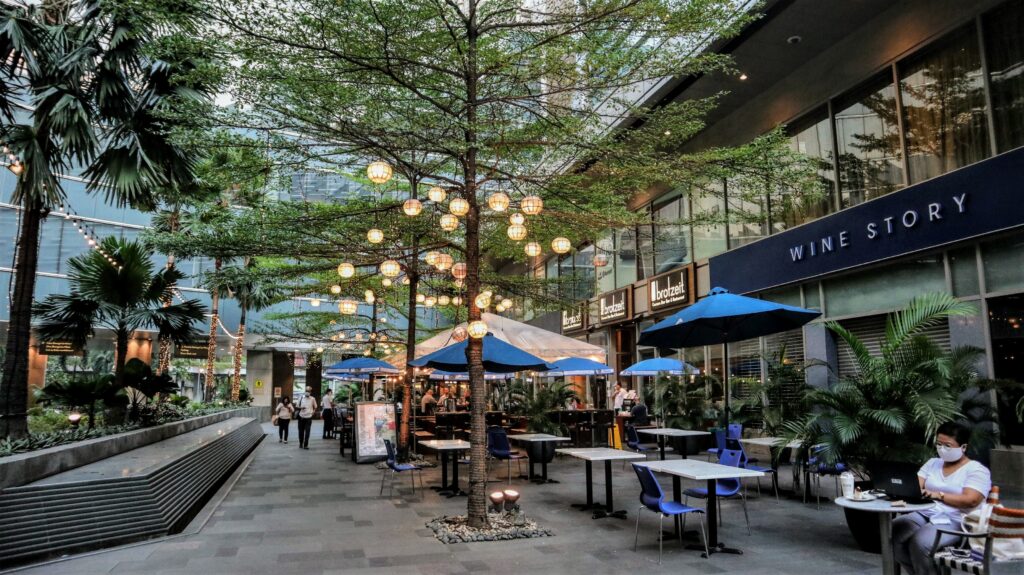 Here's a treat to all those who miss dining out! Shangri-La Plaza, a top dining destination in the metro, has now set up more open-air dining areas, allowing mall guests to enjoy dining out as safely as possible.
The identified al fresco dining areas are the Shang's Streetscape, the Level 5 East Wing balcony, and the Sky Garden at the Level 6 Main Wing. The Streetscape has a dedicated Shang Concierge where mall guests can place their food orders from any of their favorite restaurants within the mall. The Level 5 East Wing balcony and the Sky Garden areas allow mall visitors to enjoy meals ordered from nearby restaurants, including Buffalo's Wings n' Things, Pho Hoa, Tender Bobs, Zao Vietnamese Bistro, Southern Grind, Kettle and more.
These outdoor dining spots observe safety protocols mandated by IATF and the local government. Mall guests in these areas will have to follow social distancing measures including sitting one seat apart from each other. They will also have to keep wearing their masks only except when eating.
"Shang has been a top lifestyle destination all these years because we not only are anticipatory of our mall guests' needs, we also find ways to elevate the consumer experience," says Joy R. Polloso, EVP of Shang Properties, Inc. "We're enhancing the way we are serving our mall guests in this new normal by redesigning our Sky Garden and Level 7 floor Main Wing Parking Link to be exciting al fresco spaces that would make our community's dining experience complete and memorable, while keeping their health and safety in mind."
For a worry-free dining experience, #ShangRecommends dining out at the Streetscape, the Level 5 East Wing balcony, the Sky Garden and soon the Parking Link where the #ShangCommunity can enjoy a wealth of flavors daily from 11am to 8pm. 
 For inquiries, call 8-370-2597/98 or visit www.facebook.com/shangrilaplazaofficial. Follow the Shang on Instagram: @shangrilaplazaofficial.