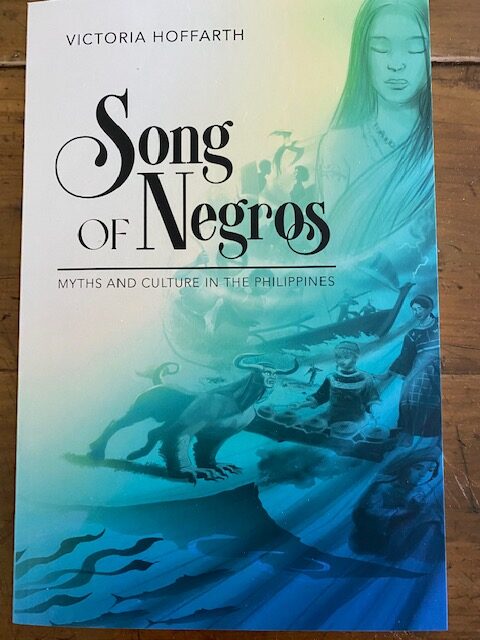 The newly re-opened Ayala Museum hosted its first event on April 24, 2022 with the well-attended launch of the book SONG OF NEGROS: MYTHS AND CULTURE IN THE PHILIPPINES. The book contains fifteen beautifully illustrated myths, legends, and folktales from the island of Negros and explains the significance of these tales to the culture of the provinces in particular, and of the Philippines in general.
Ms. Narz Lim introduced the main speaker, Dr Rene Samaniego. "Mythology", said Dr Samaniego, "is a projection of our unconscious, representing the totality of the human experience. Depicted in myths are our life events: our birth, death, illness, loss, and everything else that happens in between."
Dr. Samaniego is an eminent psychiatrist and psychotherapist who practices at Makati Medical Center and teaches at the Ateneo School of Medicine.Dr. Victoria Hoffarth, the book's author, adds,"The fantastical tales of our culture's mythology can shape our world in ways that we don't even realise."
In the book, she embarks on a journey to seek such tales from Negros, explaining the symbolic values as well as the underpinnings of these fifteen stories, given the collectivistic culture of the country.
Through these well-written accounts, Dr. Hoffarth shows how myths are intimately related to history and religion—from Christianity to Islam, from ancient Greece to Hollywood, from pre-Enlightenment Spain to modern, secular Europe.
A very accessible book with a tone that bridges the gap between academic and popular literature, it is entertaining, informative, and insightful, whilst stimulating our imagination and encouraging us to ask questions.
A go-to book especially relevant to those interested in commonalities among peoples coming from different cultures, it is now available for sale at Fully Booked, Ayala Museum, Negros Museum, and their websites for online purchases.
After June 28th, it will be available at Amazon.com in paperback, e-book, and audio-book.
Victoria Bantug Hoffarth grew up in Victorias, Negros Occidental. She left her province in 1964 for university at Maryknoll College in Manila, then earned graduate degrees from Columbia University and New York University.
Married to a German economist, she spent many years in Europe teaching in business schools and doing consulting work on women-in-management.
She now divides her time between Manila and London, and with her son in Berlin.
Dr. Hoffarth is the author of the book When Turtles Come Home: A Memoir on Life in the Philippines, and maintains a blog www.victoriahoffarth.com