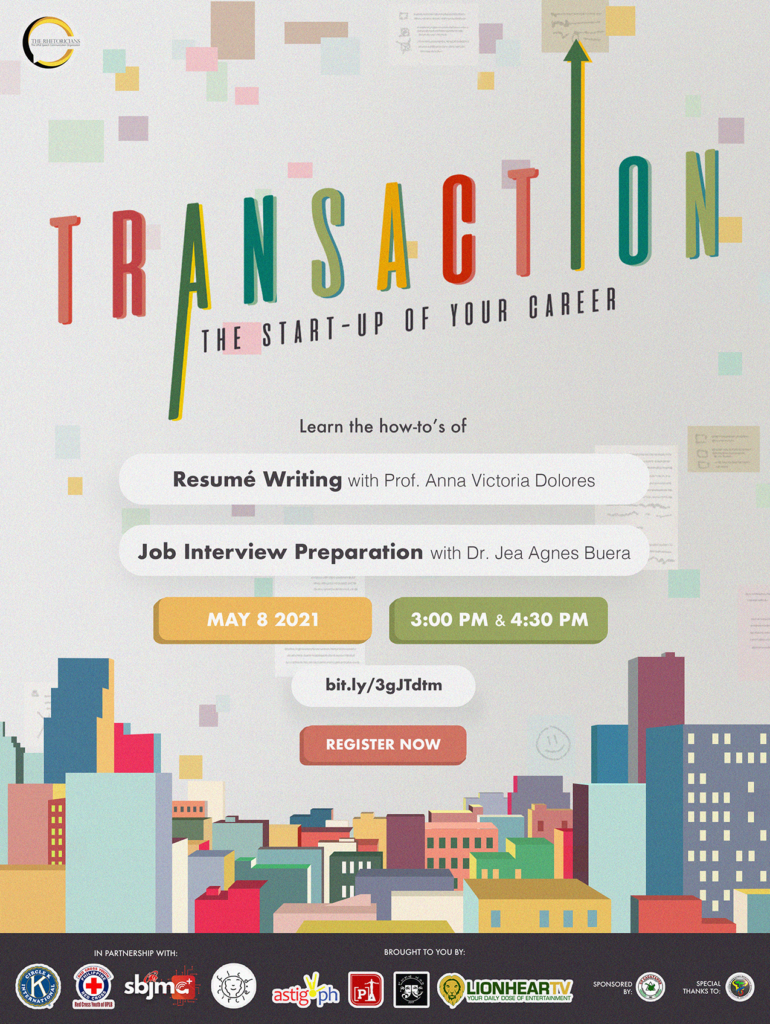 Uncertain about your future after finishing college? Worry no more! The Rhetoricians: The UPLB Speech Communication Organization is here to help you breeze through your job applications as they bring you Transaction 2021: The Start-Up of Your Career.
TransAction is an annual academic workshop held by The Rhetoricians featuring
professionals from different fields to assist students with their academic needs. For this year, the workshop concentrates on the do's and don'ts of writing a resumé and the necessary preparations before, during, and after a job interview with UPLB Department of Humanities Professors Professor Anna Victoria B. Dolores and Dr. Jea Agnes T. Buera.
Together with UPLB Perspective, ASTIG.PH, AXL Powerhouse, and LionhearTV, get a head start in your career this 8th of May 2021, Saturday, 3:00 PM, via Zoom. Admissions are
free of charge and are open to all college students. To register, fill out this link [https://docs.google.com/forms/d/e/1FAIpQLSe81pcVArt-pBtfKzUHwpz6P7OGdlwKLey4SyzkPOmYZmaRSA/viewform?usp=sf_link] and head to the organization's Facebook Page/Twitter Account: @TheRhetoricians and Instagram Account: @therhetoricians for more information.
Suit up!
Jumpstart your career.
See you at #TransAction2021!